Halloween-Inspired Design Techniques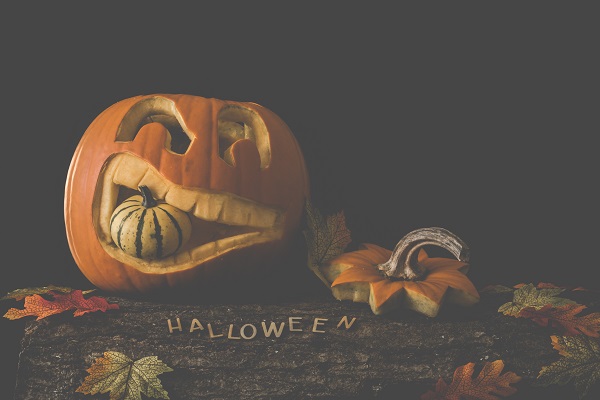 A lot has changed when it comes to Halloween-inspired design techniques. The goal is to be more fun and less creepy. However, the biggest change isn't found in the design itself, rather the audience you will be designing for.
What once was a holiday based on traveling from house to house, collecting candy and dressing up to the fullest extent of your parent's wallet has now turned into more of an adult holiday. Sure, the traditions remain relatively consistent. However, adults have adopted their own Halloween traditions.
Florists are given a more fun than frightful platform to base their Halloween designs off. Our consumers seem to have a natural tendency to be drawn to fall design with a little fun and fright thrown in, which is great for us. Today's Halloween-inspired design style is easily traditioned into fall months, so stocking up on these products will prove beneficial as nothing should go to waste.
Essential Containers
While the new Halloween design style is important, the container you choose for your Halloween designs can be just as, if not more, important.
Work with the rising trends. Pumpkins and sugar skull containers are gaining popularity for more personalized designs. This remains a bonus for their easy transition into your fall designs. There is no worry when it comes to overstock. Pumpkins, sugar skulls and fall colored containers are versatile options that last beyond Halloween and into the fall season.
Solid, fall-colored containers offer a plain (festive) platform, so adding the creepy and crawly accents is easy and less limited to a certain design. Halloween flower arrangements have a longer demand when designed to fit the season overall. These container choices help transition the flower arrangements in your shop. You can take out the "spooky" accessories like creepy crawlies and add in a few extra fall colored ribbons to give your Halloween arrangements in the cooler a second chance at finding a home.
Floral and Supply Options
You can never go wrong with staying stocked up on your traditional fall-colored florals. Sunflowers and orange and red roses will remain relevant and popular options. They can easily be manipulated to fit the spookier designs or stay simple for a fall arrangement.
Accent pieces are going to be what truly sways your designs in the direction you want them to go. Cattails and dried products are going to add in its own unique flair to Halloween-inspired designs. They remain consistently popular. If you are handy with wirework, let the creative juices flow and add a personal touch that only you can as a designer. Our variety of wire color options help give you that option. Whether it is the rustic wire options or the traditional fall wire shades, wire can really elevate a design when used properly. You can even incorporate a fun critter of out of it.
Many of today's Halloween-styled design techniques are incorporating cobwebs and sticks. These prove appropriate Halloween accents for their creepy and dreary feel. With adults throwing more and more Halloween parties, they have become a florist's audience for designs. With that being said, Halloween flower designs are in high demand. They are requested as décor or as hostess gifts. Among the more popular choices for accents are comical bugs, spiders and bats. They are fun with just a tad frightful thrown in.
Among these essential accents for your Halloween design are pods, berries and sponge mushrooms. They work great for this design inspiration, but they also lend well to holiday design style. The products florists use for Halloween-inspired design haven't changed much. What has changed is how they are used. More of this and less of that- every design is going to be personalized to the audience it is for. Just as millennials often prefer a more minimalistic, green design, our modern-day Halloween designs should reflect that fun party look.
It is important to consider these accessories along with your flower and container choices to ensure you are getting the most bang for your buck, but don't stop there. There are some important must-haves for the Halloween design season.
MUST Haves
It is time to get creative. Halloween and fall are the jumpstart to the roller coaster that is known as holiday designing. Halloween is the holiday for creativity. With that creativity comes costumes and characters. Manipulate what is given to us in nature by adding color and texture. Tints and sprays give us a platform for creative license. This makes them essential for Halloween design styles. They open the door for florists to design freely and create the vision they aspire to.
Design Master Colortool Paints and Sprays are a main tool for a florist to keep on hand. Stay stocked for any occasion and every holiday. They are offered in a variety of different colors opening the door for design expansion. These tools allow you to stay festive and work with the product you have. Sometimes it is exactly what a designer needs to finish off a design, allowing you to go where flowers may limit.
Along with the Design Master paints and sprays are Smithers Oasis accessories and products. As always, Midnight Floral Foam is a dark option for any design and a go-to product for those Halloween design styles. This, along with various other floral foams, are created to work with you, so the design you picture in your head can become a reality.
If you are looking to incorporate candles into your Halloween designs, Smithers Oasis Candle Stake options can be incorporated. Candles exude an ambiance. This ambiance is relevant to Halloween as a whole. For the dark and spookier Halloween parties, candles may be the exact thing your customer needs to set the mood for the night.
Popular Choices
Think outside of the box of products you just opened in your shop. Tis' the season for creative thinking. In addition to the traditional Halloween arrangement (that is cute and spooky) for those adult Halloween parties are the arrangements requested from that stay-at-home mom looking to accent her door or her kitchen table. Fill a pumpkin with flowers for a fun look she'll love. It is important to meet the floral needs of our consumers, so they don't turn to shopping at their local big box stores. A florist's job is to offer something unique that can't just be picked up anywhere.
We offer Smithers Oasis products that create a base for those Halloween styled wreaths or accessories for your standard designs. It is important to recognize the audience you are designing for all year round. The Halloween season is no exception.
As a florist, it is important to be flexible and work with what we have but stay stocked with what is needed and popular. Having versatile products and accessories in stock keeps your shop better prepared and ready for whatever the season's floral design trends bring. Our wholesalers at Hardin's Wholesale Florist, Inc. in Liberty, NC are here to help you stay relevant and trendy for your audience when it comes to Halloween-inspired design techniques.