Blog
That Flower Feeling
Self care has become a lot of work. You gotta pamper, practice mindfulness, balance life and work, and be awesome at all of it. Flowers on the other hand are self care made easy. They wont replace working out or eating well. But they're a spritual tune-up. To treat yourself to a little off-the-shelf self care.
That Flower Feeling, is the new brand created by CalFlowers, a flower industry trade association, to encourage more Americans to enjoy flowers at home more often. That Flower Feeling just launched its first national campaign-Flowers. Self Care Made Easy. The campaign is an entertaining and amusing example of how impactful and yet simple, flowers are, at lifting the human spirit.
Tips for Successful Sympathy Designs
Sympathy designs are needed in times of sadness and mourning. Therefore, communication with the client must be done with great sensitivity and patience. You may be creating several pieces that will combine in a scene of unity that is a personal tribute to the deceased, and you may not have much time to do so.
The best sympathy designs are a harmonious blend with the nature of a specific area and the preferences of the individual whose life is being celebrated. If all of that wasn't enough pressure, these designs also need to be created quickly. We are here to offer some tips to make that process a little easier, so you can focus on your creativity.
Make sure that you and the client understand one another prior to beginning the design to ensure the concept of the designs is within budget, and that there is a feeling of continuity if there are separate designs that will be displayed. Separate pieces should all have similar colors, styles and products to avoid having any of the pieces clash with one another.
Your client needs to understand your designs and how they reflect the person he or she lost. There are ways to personalize designs to highlight a hobby or occupation. Find out what the person was like so you can get ideas for how best to help the mourners celebrate what was unique about the person they loved.
For younger consumers, they prefer clean lines and simpler designs. They are drawn to style as opposed to specific flowers. Older consumers may prefer more traditional styles. Have examples to suit both preferences at different price points.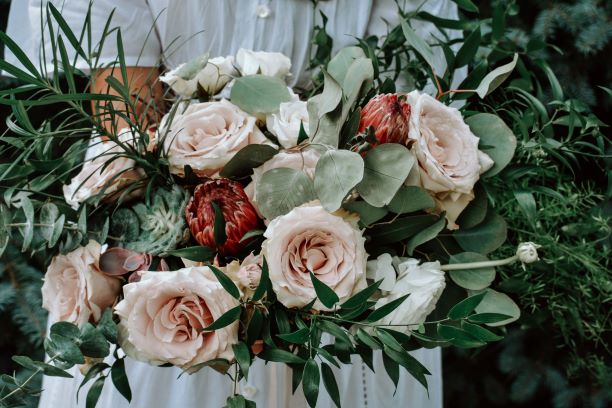 Standing Sprays
Standing sprays are one of the more popular and requested sympathy designs. They are a personalized tribute placed near the casket. Create a basic design that will help streamline the process of creating standing sprays, as you often have limited time to work on sympathy designs.
You can easily create a basic design with an easel and a floral cage. Saturate your floral foam to ensure the longevity of the design. Floral foam is the water source allowing your design to stay fresh, so it may be viewed for several days.
Standing sprays can be heavy. Since they are often folded up and moved, your design needs to be stable and portable. You can reinforce your design by using waterproof tape around the floral cage.
The back of the floral cage and the mechanics should be covered to make the design look clean and more natural. Your design should not have exposed plastic. UGlu and double-faced tape can be used to attach leaves, moss or foliage to the back of the floral cage. Larger leaves cover more area. Before using UGlu, make sure the foam is dry.
When attaching the floral cage, you can use bind wire or paper covered wire to keep it secure to the stand.
Proportion and scale are important, and there must be focal emphasis on the center of the design. Use a sharp cut with a sharp knife in the shape of an arrow to open waterways and create a point to help fix them in the foam.
Make sure that flowers are placed one to one and a half inches into the foam, so they are stable and have water. Avoid putting the foliage into the foam as that will create bacteria.
How to Make a Design More Upscale
Upscale designs are more expensive and designed to appear opulent and grand. A more upscale appearance can be achieved as a result of style and/or flowers. Calla lilies, roses and orchids, for example, can instantly give a design a more elegant, upscale appearance.
However, sometimes the way the product is presented can influence how upscale it is perceived. This includes the size and the florals used. Also, height is another way to give a design more of an upscale feel. The design should follow a clean line that intentionally leads the eye.
White is often used in sympathy designs, and if your design is all white, be sure to use vibrant greenery to bring out the design.
Always place your most expensive blooms in the middle of the design, so they can receive the attention they deserve. Carry the eye through the design with intention. The color, the varying materials and the line of the design direct the viewer's gaze to specific areas of focus.
Smaller Sympathy Designs
There is a desire for more plants in sympathy designs. There is a perception of greater value, more flexibility and comfort in the thought that plants can continue to live. This also makes plants a great choice for condolences for businesses.
A dish garden is a garden of plants in a shallow dish that are compatible enough to slowly grow together. Succulents are popular for dish gardens and can be dressed up with fresh flowers. The flowers should have long stems sticking into tubes for a water source. A bouquet holder tucked into these designs provides an excellent water source.
Personalized sympathy designs are seen as more valuable and memorable. Like other designs, adding upscale flowers like orchids is a simple way to elevate the design. Always listen to your clients during these difficult times. If you are sensitive and intuitive, you can create a design to help them feel better and remind them of the dearly departed.
If you are looking for options for flowers or mechanics for sympathy designs, our wholesalers at Hardin's Wholesale Florist, Inc. in Liberty, NC are always glad to provide you with the tools to create memorable, balanced and secure designs with beauty and longevity.
7 Steps to a Successful Bridal Consultation
They aren't just saying "I do" to each other. They are saying "I do" to you too. When executing any bridal consultation, it is important to be prepared, so you can win over the eager couple. We've listed out the steps you'll need to keep in mind to successfully walk your clients out of the shop and down the aisle with you by their side.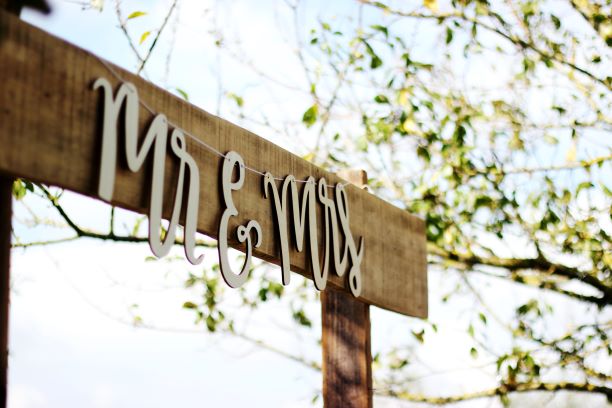 Step 1: Determining Who Your Clients Are
There are certain questions you will need answers to prior to any bridal consultation. If you can get the who and what about the couple and their wedding dreams, then you are a step ahead. It is important to work with your wholesaler to ensure that the necessary products are purchased. It should work with what you need and still make your clients happy.
Collecting this information does not need to be difficult. We live in a time of convenience that embraces modern technology in all aspects. When conducting any wedding business, it is best to keep your website updated and relevant. Have your potential clients fill out the information before your consultation. It is important to know the color scheme, their floral preferences and the dreaded "budget" all ahead of time to ensure a successful overall consultation.
If you do more than just weddings, dedicate a portion of your website to weddings to keep it fresh. This will also allow these potential couples to get through the information in due time. A simple "contract form" or questionnaire can be created manually or through online tools to make the process even easier.
After you collect the answers to your base questions, you'll need to contact your wholesaler. It is important to coordinate to see what florals and products are available for the time of the couple's wedding that fit into their budget restrictions.
Additionally, ask your wholesaler if they have samples of the discussed product to share during the consultation. Make use of the sample product by adding it into the centerpiece for the consultation. It will help turn their vision into reality.
Step 2: Determining the What
What type of wedding are you looking at? This can also be predetermined through your online questionnaire. In addition to the points previously mentioned, the ceremony site, the number of attendees, wedding party information and stylistic choices will need to be known ahead of time.
When a florist is not equipped with this information ahead of their wedding consultations, said florist will have to spend additional personal time outside of their consultation to gather and prepare the information. Time is money after all.
These checklists and questionnaires aren't just preparing you; they are prepping your client. It is important for them to plan early, so they can plan and price shop. Having them come into their consultation completely blind to the process and the budget is a recipe for disaster. This prep helps to filter through the unneeded stress and hassles of planning for your clients. In return, it helps lead to a more successful bridal consultation.
In addition to displaying floral options in your consultation's centerpiece, talk with your wholesaler about photos they have of the preferred product. Additionally, discuss pricing and availability for the scheduled wedding date.
Sometimes your client's wedding dreams don't always match reality. It is important to come up with some solutions, options and inspiration to show them during their consultation. It is all about prioritizing time in order to better execute what type of wedding they are looking for.
Step 3: Things Even A Seasoned Consultant Need to Know
Even the most seasoned wedding consultants need to have questions written down to go over during any wedding consultation. Although you can run a wedding consultation with your eyes closed, even the best of florists can get caught up in the excitement and miss something important.
Having those written questions for reference as an outline during your consultations will help prevent you from having to circle back after the consultation is over. These questions should focus on what you need to know to direct the couple and prepare an estimate for what you will be providing them.
Step 4: Show and Tell
You gathered your information from questionnaires and your checklist. Use this information to direct the consultation. This can be done by supplying samples of potential florals and designs. Make the most of the time you have. If your couple has a smaller budget, it doesn't make sense to show them products they can't afford.
This also applies to them personally. If you have come prepared and shown them their realistic options, and they have brought photos and ideas that are impossible to fit into their budget, be honest and tell them. They may be disappointed and may even try to guilt you into lowering your pricing.
If your pricing is fair and your approach is real and sincere, there is no need to offer an apology or make your profit suffer. Pricing needs to be based on the market and level of service. There is no way around it.
Most humans are visual people. Think show and tell when you were a kid. It allowed you the opportunity to share a unique aspect of yourself in a visual and personal way. Talking with your wholesaler about what visuals you can set up to better highlight the vision of the couple will result in a more successful consultation.
It is one thing to have a picture of what you want in your head. It is another to take the words of other people and physically create something that meets that visually. If they can see it, they are more likely to agree to it, and if what they see doesn't meet their wedding expectations, it is better to know early. This will give you time to mold the design to better fit their style.
Talk with your wholesaler about using containers that you can return after the consultation. This will help you until you have set the standard styles that you'll keep in the shop.
Step 5: The Payment Plan
Bridal consultations are all fun and games until it is time to pay. Often, the numbers take the twinkle out of the eyes of the betrothed couple. However, this is where the structure and payment plan come in.
It is important to be real and be honest. They will appreciate that. Let them know what you handle and for what price. Explain the cost for setup, delivery and when and how it needs to be paid. The payment structure should be talked about and worked through during your consultation. It is not recommended to save payments for the wedding day. It is neither fun nor realistic for any of you.
Whatever you decide, be sure to stick with it. Have a plan and work the plan out. Money talk does not get easier with time.
Your wholesaler is there to help you determine how to price. That is just another reason why doing your homework is so important. If you know what they want, you can better estimate the pricing ahead of the consultation. Develop a pricing sheet to avoid having to backtrack and research for every consultation. This will help make developing a proposal much easier.
Your wholesaler can also help you with timing. Once you know the wedding date, you can work out when the supplies need to be ordered. This will ensure you have the desired varieties and the requested quantities for the desired timeline. When you have this talked through, it makes creating your client's payment plan more exact and is an overall more convenient process.
Step 6: The Things You Should and Shouldn't Do
Whether you are one to try every way around rules or one to follow them every step of the way when it comes to wedding consulting, you must oblige. Every venue, business and provider has them. Sometimes this limits you as a florist for what you can and can't do for the eager couple.
It is important to know what your client is looking for. Not every client is going to work for you, and that is okay. It is important that you do whatever it takes to avoid spending extra time and resources for clients who aren't the right fit. This is just another reason why those checklists and questionnaires are so important. When the important points and preferences are discussed ahead of time, the smoother and more successful your consultation will be.
Do not give your services away. If your client wants that "Cinderella" wedding but the budget doesn't match, work with what you can but discuss, in detail, what the options are. Showing a willingness to work with your clients, your honesty and your overall integrity will sell your service. Your couple wants to feel listened to. If you do that, you are doing something right.
Giving away your services to avoid losing your client to competitors will result in challenges and decreased value of your services. No one wants that. A successful wedding consultation is real and upfront from the beginning.
Step 7: Your Attitude Determines the Success of Every Consultation.
Odds are your potential clients aren't wedding professionals. They may be shopping around. They may even try and compare your pricing to other florists in the area. It is important to stay calm because all they really want is for their day to be perfect (in their eyes). How you react to them will make all the difference in your wedding consultations.
We live in a world focused on online shopping. Weddings are no exception. Be patient. Be willing to answer questions. Be able to explain why services and products cost what they do. If your couples understand it and if you are completely transparent, there is nothing to lose. Be able to explain how flower substitutions, fewer stems, container changes and pick-up services will help them reduce costs and massage budgets.
Just know with every step you take and with every preparation, there will be clients you have to say no to. A wedding consultation is only successful when it is mutually beneficial. Our wholesalers at Hardin's Wholesale Florist, Inc. in Liberty, NC are here to help you in any way we can. We hope these steps will help to make every one of your wedding consultations go swimmingly.
Must-Have Flowers in Your Shop for Mother's Day
With recent circumstances of COVID-19 in mind, Mother's Day may look a little different this year. It may even be a "come back" holiday for many florists fighting to stay open or for the shops that had to close due to the pandemic. If that's you, let's make the most of the holiday with all the tools (and florals) you'll need.
Mother's Day prep, like other floral holidays, has to be done over a month in advance. You should have a plan for execution and need to place orders for bulk supplies well in advance. Many florists and wholesalers are feeling uneasy as to what this timeline will look like, but just know, we are all in this together.
We are here to remind you to stay positive and stay on the path of readiness. In addition to your must-have flowers in your shop for Mother's Day, we encourage you to also consider having some trending florals on hand upon request.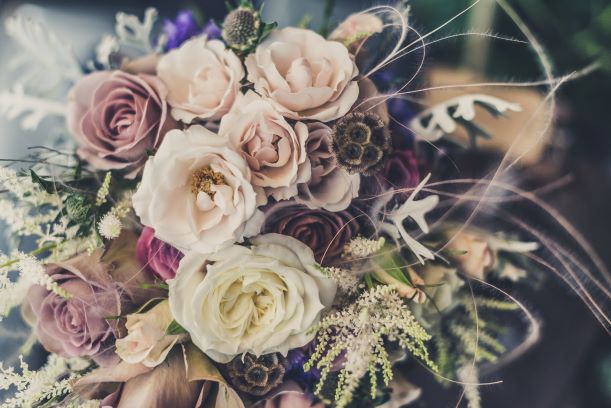 Stargazer Lilies
Is it the feeling of classic admiration or the sweet fragrance of the stargazer lily that makes it a standing favorite among both senders and recipients?
They are a focal flower. To no surprise, their large light pink, white and dark pink colors are an ideal base to design with. They show value as an expensive main flower, but the consumer doesn't need much persuasion to include this floral into their design. White stargazers and Casa Blanca lilies are also recognized as equivalently elegant and graceful.
Roses
What says "I Love You' more than a rose?
Pink, lavender and hot pink roses mix well for a sophisticated and feminine Mother's Day arrangement. Trending now is blueberry, blush, taupe and purple colors. When used, these colors truly elevate a design to the next level. Garden roses are also beautiful to include in Mother's Day styles, as they are one of our favorite trending florals.
Carnations
Some consider this floral variety "old fashioned." However, we are seeing its popularity grow with the next generation due to their long shelf life. Their beautiful color options of purple, taupe and green make them even more attractive to current trends. With the modern-day buyer's love of color in mind. New dipped and stem dyed varieties are also showing up in the market.
Alstroemerias
Alstroemerias, also known as "Peruvian lilies," are available in several colors. Their long shelf life makes them popular for both mixed and mono-botanical designs. They can also be used as a filler flower for all styles. This stunning flower is also a great option for personal flower designs.
Chrysanthemums
Chrysanthemums are known by many names. "Mums" is the word most associated.
"Disbuds", "Footballs" and "Spider Mums" are all single stems. "Buttons", "Spray Mums" and "Pompoms" are all multi bloom stems. They are all great fillers and are perfect go-to's for pillowing and clustering in today's updated styles. They are also wonderful options for hand-tied bouquets, as they add mass.
Matsumoto Asters
If you appreciate a pop of color, Matsumoto asters are your flowers.
Paint your designs with their beautiful hot pink and purple petals and bright yellow colored centers. This flower brings complement to some of the florals with softer tones, but they don't stop there. They brighten up every color pallet.
Snapdragons
These wonderful line flowers are great florals to use when you are looking to add height to a design. Additionally, they are ideal florals to convey garden feelings to today's free form design popularity. These multi-bloom stems are available in some great color variations and soft tones as well.
Consider snapdragons for the more fun and modern Mother's Day design.
Daisies
Both gerbera and field daisies are a mom favorite. From a simplistic hand-tied bouquet to an over-the-top mixed design, daisy color and varieties can be used to create both simple and stunning arrangements. Today's market of consumers' preferences makes daisies must-have florals for Mother's Day.
Hydrangeas
This is a mass flower that you must have in shop for Mother's Day. No questions asked.
Once viewed as a garden flower, it is now a Mother's Day essential. The most popular hydrangea is the mini-green, but we see the mixed antique green hydrangea with its touches of pink, burgundy and even blue growing in trendiness. Its other shades of purple, pink and blue are growing in demand as well.
You truly can't go wrong stocking up on hydrangeas for Mother's Day.
Peonies
Peonies are one of the strong flowers trending with today's generation. It is safe to say that they have fallen in love with this floral. It does have a higher price tag, but peonies make a statement on their own and in fewer numbers.
It's a beautiful and feminine Mother's Day floral.
Plants
Plants are trending in every sense. Simple green plants, exotic plants, tropical plants and succulents are strong in today's market. They are must-haves for spring and can be equally as loved to be gifted on Mother's Day.
We live in a time where trends are changing frequently. Sometimes, they are changing too quickly to keep up with. With that in mind, it is important to have a variety of florals and price points on hand to meet the demand.
Creating designs that can be easily adapted to fit this diversity will help you meet the demand of every consumer. Mother's Day Designer's Choice designs are the go-to florist's choice to get through the holiday successfully. However, if you can offer some flexibility for personalization, it will better set you apart from your competition.
Our team of wholesalers at Hardin's Wholesale Florist, Inc. in Liberty, NC are here to help you prepare and recoup during and after this pandemic. The floral industry is a unique industry. It is filled with passionate and caring people with a desire to care for others and deliver smiles. Your talents and your designs are exactly what the world needs in these uncertain times.
Prepare now to better execute a joyful and beautiful Mother's Day. Let's make the world a more beautiful place, every day.
How to Prepare for Summer Wedding Trends
With many 2020 spring weddings canceled due to the unfortunate pandemic, we are hoping that summer holds the promise of the renewal we missed during the spring season. In fact, here's to hoping for a busy summer with some of those weddings that were previously canceled back on the books.
Since we are hoping you will have a busy summer wedding season, we wanted to share some tips on how to stock your shop in preparation for the 2020 summer wedding floral trends.
Remember, it is always a good idea to create several arrangements at different price levels and suggest to clients that choosing arrangements and designs at different price levels will stretch the budget. The variety of having different arrangements will also create more interest and impact to the space.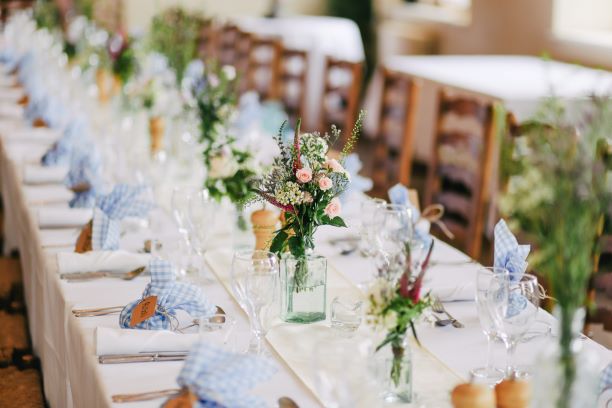 Big on Color
Color is bigger and bolder, and pastels are taking a backseat to brighter hues. Color is in focus and modern couples are expressing their playfulness with deep, rich tones.
Along with bigger colors, flowers are also larger with a more relaxed style. The 2020 Pantone Color of the Year is classic blue, so the wedding trend of full and vibrant colors is a natural extension.
Sustainability and Minimalism
Minimalism is having a moment. Intentionally simple styles can be beautiful and unexpected. Instead of flowers everywhere, minimalist and sustainability trends are more about quality over quantity and seeking in-season blooms.
Sustainability is another important trend, and many people want it to be part of their wedding. The minimalist and sustainability trends are fresh and modern. These weddings are more natural with linens, reusable containers like ceramics and recycled glass.
Another aspect of the increased concern with sustainability is that clients may begin asking for foam-free pieces or asking if flowers are in-season. Experiment with creating foam-free designs to accommodate the desires of the eco-conscious to eliminate foam and advertise this ability.
As wedding flowers continue to reflect the shift toward concern for the environment, flowers feel more organic and natural when it comes to the design. Reusable containers can coincide with the style of the wedding and allow these pieces to be easily moved and repurposed. These multi-use arrangements are a great suggestion for the eco-conscious wedding requests.
Another way to incorporate a natural feel is by using branches, wildflowers and vines of greenery to give these arrangements and bouquets a more gardenlike feel.
Table arrangements are becoming smaller and less obtrusive. Trailing flowers, both from the ceiling and from the table are ways to create an ethereal vibe without using as many flowers or creating the feeling of an overwhelming abundance of flowers.
A simple and elegant way to celebrate minimalism and sustainability is by using single statement blooms. This way, a favorite flower can be chosen and placed in bud vases for small bursts of color that are also easy to transport for multiple uses.
Bouquets are also smaller and consist of pretty, scented flowers and complement rather than overtake the bride. If a summer bride opts for a smaller bouquet, you can even suggest having a spare bouquet waiting in a safe place in the air conditioning in case the original bouquet wilts from the heat and needs to be replaced.
Flowers in Focus
The peony was popular in 2019 and continues to dominate. They are versatile enough to fit into formal or rustic weddings, and since their season runs from April or May to late June, they are a natural selection for early summer weddings.
Garden roses are a possibility for summer. Hydrangeas are another trending, in-season option. Most varieties bloom in mid-spring well into summer. For late summer weddings, suggest dahlias.
Modern Boho
Modern Boho still has a similar relaxed vibe to the boho we are already acquainted with, but it is moving away from the more earthy tones and macramé and becoming more vibrant with bright colors like scarlet red and bold yellow. Grasses are still big and adding interest, but there are some other options.
Tillandsia is a great option for summer weddings as they can handle the heat. Another interesting option that is beginning to gain traction is sun palms. Sun palms come in almost any imaginable color, which makes them an obvious choice for modern boho. They are so easy to incorporate into many color palettes that their popularity will likely extend beyond the boho trend to other styles.
Permanent Botanicals
Artificial and dried flowers are collectively known as permanent botanicals, and their popularity coincides with the bohemian and eco-wedding trends. A big advantage of working with permanent botanicals is that you can always manipulate the form and shape as the stem has a wire that can be bent. Another bonus is that you don't have to worry about whether they are in season or will wilt.
Dried flowers were once only chosen for rustic weddings, but they are now finding a place in minimalist and bohemian wedding florals. Dried flowers are mixed with fresh flowers to add new depth, texture and expanding options for color.
Dried flowers can be painted, bleached or even left natural. The best part is that you can hold onto them as keepsakes long after the wedding festivities come to an end.
Unique Designs
Weddings are an expression of a commitment, and all relationships are unique. It makes sense that the wedding trends of 2020 reflect this idea. Unique designs aren't confined to the traditional idea of what weddings flowers are supposed to look like.
Instead of large arrangements and classic bouquets, unique designs are more deconstructed and unexpected. They may still consist of some of the trends but with a slightly different spin. Peonies, a popular wedding flower for 2020, may be displayed in an unusual container, and monochromatic designs might showcase flowers with similar yet slightly varied shades of the same color.
When it comes to unique designs, greenery doesn't need to be green. Bleaching leafy plants are reinvigorating the greenery trend. It allows for greenery to add the texture and bulk without adding too much of the color green.
The bleached greenery complements bohemian looks and fits nicely with loose, organic designs of the minimalist trend.
To take the unique approach even further, you can always suggest corsages or some other flower wearables. The best part is this allows important members of the bridal party to have their hands available to help the bride instead of holding a bouquet.
Flower jewelry like necklaces, bracelet cuffs and even earrings are extremely popular and certain to make a statement.
Where Trends May Begin and End
It is important to acknowledge that weddings are an extremely personal event. Although the trends are certainly influential, not everyone embraces the latest trends. Some people want a very traditional wedding, which means you must be versatile. Also, you will often find that when you are further away from larger cities, weddings are less driven by trends.
Whether you are designing for a classic or a trend-focused wedding, our wholesalers at Hardin's Wholesale Florist, Inc. in Liberty, NC have what you need to make any wedding the personal expression of love the happy couple deserves.