Blog
Trending Styles for Easter and Spring
As a holiday, Easter has changed. Easter was once a holiday involving church, hidden eggs and candy treats, new outfits and a large meal with family. The Easter of the past was a time for florists to provide large lily orders for churches and other gatherings and corsages for the ladies to wear.
Florists may still have these types of orders, but the occasion of Easter and the corresponding arrival of spring brings other exciting opportunities for florists in today's market.
Trending Styles for Spring Containers
For this spring, pastel colors are more of a medium tone with stronger color. Look for terra cotta pots and color-washed containers. Colored glass vases are another smart choice for today's market.
Instead of handwoven baskets, select baskets with texture, stamped color, patterns and eclectic, untraditional weaves. Novelty containers with cute sayings and interesting words and phrases are still being seen in the marketplace. Easy grow pots with texture, garden wording and catchy phrases are also chic and useful for today's buyers.
Trending Flowers and Greenery
Spring brings out the bulb flowers like iris, hyacinth, tulips and daffodils in rich, gorgeous colors. Other spring flowers like peonies, sweet peas, dahlias and clematis are now all the rage, as this generation looks for less accessible flowers that their parents either did not have or could not get.
Spring is a challenging time for greenery. The verdure is more sensitive and tends to droop easily this time of year. When the more sensitive foliage is in the growing season, play it safe and stick to the standards.
Consider soft, trailing foliage like ivy or primrose to pair with a hard, glossy foliage like magnolia or salal. The combination is interesting and gives a more desirable finish.
Painted bulb plants are very popular for this year. It may be a fad. Then again, succulents were thought to be a fad yet are still going strong. Certain varieties are being painted to add color and interest to the garden and the home. Succulents and painted bulb plants are great for gifts.
Another interesting and unexpected gift option is tillandsia. These air plants are easy to care for and can be offered painted, plain, in a container or not.
Getting Ready for Spring
Once Valentine's Day has swept out of the store until next year, get your spring campaign ready. It is getting harder and harder to capture springtime dollars, so don't miss a moment.
Hosting a springtime party in your store is a great way to unveil your spring designs, containers and options. Advertise in-store and online for this event. You can even encourage your customers to bring in their own plants, so you can help them add color or choose new containers to usher in spring.
Compared to last spring, not a lot has changed. The colors are a bit different, but most retailers and product developers are playing it safe. There is a noticeable growth in the plant industry. More of the younger generation have jumped on the plant bandwagon.
For those who aren't ready to make a big commitment yet still have the desire to care for and nurture something, exotic easy-to-care-for plants offer a living companion that isn't too demanding.
Building Relationships to Build Your Brand
Building relationships within your community is essential for building your brand. Find ways to join your community for events and special occasions. Showcase your designs whenever the opportunity arises. We would also like to encourage you to expand your relationship-building to us. We want to get to know you, so we can better accommodate your needs.
We offer a variety of flowers that we may not carry all the time and some varieties we may not carry until someone asks us for the specific type. We are always glad to do what we can to get you the flowers, greenery and other materials you need.
Mixed boxes and variety packs may offer something different that you may not have selected on your own. A discovery of different or unexpected flowers or greenery can sometimes lead to a new design inspiration, so keep an open mind.
We want to offer you our personal service, whether you buy online or visit one of our locations. We will work with you to find items that allow you to create a style that reflects the trends but is still recognizable as your brand. We want you to be happy because how well you do with our materials is a direct reflection of how we are doing, so contact our wholesalers at Hardin's Wholesale Florist, Inc. in Liberty, NC today.
Homecoming vs. Prom Design How-To's
It's a flashback in time. As a florist, prom and homecoming are still very much on your mind, as they are two peak selling seasons. These nostalgic pastimes remain in hearts, minds and photos for years to come. With that in mind, it is best to properly prepare for what is to come.
The Differences Between Homecoming & Prom
In order to properly design and properly prepare for both events, you'll need to know what distinguishes the two. This topic is a bit "up-in-the-air" with florists, as the design elements are relatively similar, but there are some differentiating factors.
Homecoming
Homecoming flowers are dedicated to school spirit. This may be what differentiates them the most from their prom counterpart. Homecoming often involves a homecoming dance that is surrounded by a big football or basketball game, a homecoming court and several pep rallies. This event is not limited to seniors in high school, and it is celebrated among many grade school ages.
Your floral approach to homecoming should have coverage in each area. Depending on the area or schools in which you will design, homecoming flowers can focus on displaying school spirit (i.e. Texas' Homecoming Mums) or as an accent to a person's homecoming dance attire (much like prom).
Homecoming Design Musts
When it comes to designing for homecoming, you'll need to keep a few floral styles in mind. There may be a presentation of bouquets to the homecoming court, a selection of bouquets that are handed out at the crowning for the dance and of course, corsages and boutonnieres for homecoming dates. There are so many opportunities for any retail florist to have their work displayed in front of anyone participating in homecoming festivities.
Often, homecoming designs for the dance or the homecoming court are requested to be in team colors or similarly styled for consistency. The corsages and boutonnieres given to dates vary among each pair but be sure to take into consideration what is popular in your area.
Prom
Prom flowers are more complicated, more expensive and more personalized than homecoming flowers. Rightfully so, as it is the more formal event with much more likelihood for changing trends and styles.
Your floral approach to prom should focus on getting ahead of your competition. Preorder sooner. Advertise sooner. Push your designs on social media more frequently. Prom is more competitive due to it being considered a more crucial social affair. This could be due to the pressure of departing your high school years in a fun, beautiful and extravagant way.
Prom Design Musts
This generation of prom-goers cares more about embracing diversity than ever before. Taking some older styles, designs and florals and pushing them as new can give you a competitive edge.
Yes, traditional styles are still relevant but giving options for creative freedom is important. Pinterest boards are a florist's biggest nuisance during these busy times, as it can, at times, give our consumers unrealistic expectations on what is available or trendy for the time.
With these obstacles in mind, it is better to get in front of the challenge placed in front of you. Have examples ready for your clients to preview when they come in the door. Remember, your name is going to be on whatever design they choose. You should be proud of the final product. Prepping ahead and showing what is available for customizing will help keep your designs up to par with your standards and still leave your younger buyer satisfied with the result.
What Applies to Both Homecoming & Prom
There is usually a committee or board that handles the business for both homecoming and prom. As a florist, it is smart to build a relationship with those committees in your area to ensure you are ahead of these events.
Work with the school committees, specifically for homecoming, and your wholesaler on coordinating a setup with booths to showcase your products. This can help with knowing what to preorder when it comes to the essential colors, ribbons, accents, lettering and possibly centerpieces for the tables.
Applicable to both but specifically for prom, wholesalers can assist in offering mixed boxes of products, accessories (ribbons, wire, jewelry), wearables, greenery, items for delivery and storage (corsage boxes, headpiece accessories or bouquet boxes) and other hard goods. It helps to expand your design horizon and possibly save you some money.
Be sure to order any of your flowers at least 5 weeks in advance. Due to the demand, orchids and pink and white roses are consistently requested and need to be ordered with adequate time to make it to your shop, specifically for prom.
Be careful not to give away too many secrets or options. You don't want committees to go to your competition for quotes on lower pricing. Show possibilities for design but give nothing in writing until a deposit is made.
Additionally, work on partnering with local businesses across your area ahead of these peak times. Exchange business information, cards and photos of your product to be displayed for further reach. Word of mouth and local support are crucial for these community affairs, even for our younger consumers.
Host in-store events to show new trends in prom flowers or alternatives to better increase your event sales. Any involvement you can get with your younger consumers will give you a much-needed competitive edge. Turn it into a fun opportunity for a night out with friends or "high school" night during these homecoming and prom seasons. When they feel involved, they are more likely to commit to you.
Our wholesale team at Hardin's Wholesale Florist, Inc. in Liberty, NC is here to help you get ahead of the how-to's for homecoming and prom season. Get ahead of the game and of the night by being prepared and staying up to date with what works for your brand and your shop.
Floral Chandelier Tips
Chandeliers have been a symbol of elegance and luxury since medieval times. Like a bright, burning star, they draw one's gaze upward, illuminating the room without detracting from the surrounding beauty.
These characteristics extend to floral chandeliers and make them an appealing option for weddings and other special events. Another reason to suggest a floral chandelier is to avoid large centerpieces on tables that become visual obstacles. Floral chandeliers can also be a beautiful and resourceful way to conceal unattractive venue features.
A floral chandelier instantly adds drama and visually impacts the venue without taking away from the overall aesthetic.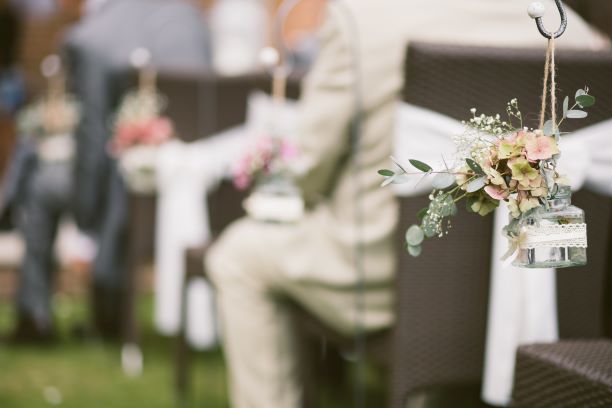 The Tools and Mechanics
Anything suspended from the ceiling needs framework. Your framework can consist of metal or wooden dowels. For a more lightweight option, consider bamboo.
Premade floral foam pieces in cages or frames can be used. You can place flowers directly into it or suspend floral products from wires pressed into the foam. If flowers are sticking into the foam, saturate the foam sections with water to allow your flowers to stay hydrated. Use glass water tubes to hydrate flowers hanging below.
If you desire more control over your design or need a custom frame to fit a specific space, create chandeliers with chicken wire frames. This gives you the option to make any size and shape you desire. Cover the chicken wire with foliage then place the tubed flowers into the wire.
Aluminum, flat and other wires can also be used for the frame and for maintaining the shape of your design. Floral wire and tape are essential for securing your designs. With some designs, fishing line can also be used.
Some venues already have chandeliers. For these locations, the structure is already in place. Make sure the stems you plan to add are not going to add too much weight. Keep everything you add away from lightbulbs or wires. Once you know where you want them to be placed, secure the stems with string or wire.
Even if the location does not have a chandelier in place, using a room's natural features as a starting point can help your design take shape in a way that works with and enhances the space. Anything you use to hang your design must be cut the same length, so the design is balanced and hangs evenly.
High-end event production companies have teams that build, weld and customize framework for ceiling installations, but smaller designers, on a budget, can get creative by using something as simple as a hula hoop, a handmade wire wreath or both attached as the foundation of the design.
Style Suggestions
When a floral chandelier is part of the overall décor, the piece becomes a primary aspect and focal point. As a result, it should blend well with all other designs in the room.
Since a floral chandelier is a statement piece, the space below should not be decorated with anything large enough to compete with the chandelier. Any arrangement below it should be elegant, uncomplicated and seamlessly coordinated with the chandelier.
Flowers and Greenery
Flowers can hang from the frame, or the frame itself can be wrapped with flowers and foliage. For a floral chandelier, garlands or leis that are easily bound to your frame simplify the process. When using garlands, even for a floral chandelier, start by attaching the garlands and wire the flowers into it.
Any flowers you select should be fresh, blooming and able to withstand long periods of time without water. When buying your wholesale flowers, longer stems will make it easier for them to be attached to your design.
If your chandelier has layers or tiers, you likely won't be adding flowers to the top tier and can instead use foliage to give it density. Fill in the top first then move to the bottom layers, which are the most visible. Greenery should be added before florals. Entwine the flowers into the greenery and distribute them evenly.
Some people opt to go with foliage or grasses instead of florals. Foliage chandeliers need a center point or center framework. Mixed foliage garlands like magnolia and eucalyptus are perfect for foliage designs. For foliage, set it in place using wire and tape to make sure it stays the way you arrange it.
Once your flowers and greenery are in place, check for blank spots or gaps. Use small flowers, vines or add more greenery to fill in any empty spaces.
Other Hanging Floral Options
Smaller budgets can still accommodate hanging flowers. If a large floral chandelier is too much of an expense, hanging floral centerpieces is a way to make the space more dramatic. Some other options for creating the foundation for smaller hanging florals are planters, pots, wreaths and bird cages.
Practical Tips
Not every venue will be suitable for a floral chandelier or hanging floral installation. The venue must have high ceilings and structures from which to suspend your design. However, for venues where beams make for easy suspension or places that already have a chandelier you can simply decorate, a floral chandelier is an elegant statement piece that will not sacrifice table space.
Of course, the venue must allow floral chandeliers and give you access to the location while you are designing your piece. Floral chandeliers can take several hours to assemble on site.
The room should be a cooler temperature to keep the flowers from wilting. Avoid hanging your floral chandelier in direct sunlight, close to windows or near heating and cooling vents, if possible.
Because of the number of flowers used, floral chandeliers can take a sizeable portion of some budgets. If the chandelier becomes a burden to the budget, encourage local and in-season florals. Additionally, you can use more foliage to add depth and more affordable fresh blooms like carnations. Permanent botanicals added to a chandelier are another lightweight, budget-friendly option.
The prospect of designing a floral chandelier is much less daunting when you have the right materials. Whether you need the structure for your design, greenery, florals, or the tools, our wholesalers at Hardin's Wholesale Florist, Inc. in Liberty, NC have the supplies to make the dream of a floral chandelier come true.
How to Recover from Valentine's Day
The chaos has passed, and it's time to gather your bearings. Just as runners need recovery time after a marathon, florists need to follow these steps to best recover from Valentine's Day.
Sales Assessment: What Worked and What Didn't?
Even veteran florists need to take time to assess their sales after Valentine's Day.
Assessing your sales after Valentine's Day, or any holiday, boils down to sorting through what worked and what didn't. For some, it also includes who worked and who didn't. It's evaluating your shop's game plan, your holiday goals and where the final quota fell within those margins.
In order to properly assess your Valentine's Day sales, consider these factors.
1.) Evaluate your original goals. These should have branched off your previous Valentine's Day assessment. If you met your goal, or better yet, exceeded it, document what strategies proved effective to your shop's productivities. If the outcome fell short, identify the performance gaps.
Your P.O.S. system is there to help make the calculations for you. If you haven't yet, check with your accountant or a representative from your service provider. Keeping track of your holiday numbers and assessing your sales is one way you can better recover from Valentine's Day.
2.) It is equally important to evaluate your promotions and marketing strategies after Valentine's Day. For both sales and marketing strategies, it is important to view the process, check to see what worked and what is still in need of adjustment.
This procedure should be done after every major floral holiday. It is a starting point for prep, inventory purchasing and the overall basis for holiday prep and recovery. When you keep the proper records, both pre-and-post holiday prep and recovery become that much easier.
Ways to Get Ahead of Holiday (Prep and Recovery)
Branching off your sales assessment, there should be a record of any products or florals you had to scramble to get last minute. It is important to factor in whether you were you procrastinating or just waiting for the best deal.
If you are looking to get the most bang for your buck when it comes to holiday prep, you must do your homework. Would buying more from your wholesaler's online platform(s) have saved you time and stress?
The answer is yes. Here's why.
1.) It is important to engage with your wholesaler regularly, both online and verbally. Your wholesaler is there to remind you about what is popular for the season (and holidays), and we offer discounts. Discounts are often promoted on our websites, through traditional marketing and even on social media.
Only you know what you scrambled to get at the last minute before Valentine's Day this year and what it cost you (both figuratively and literally). Your sales assessments will attest to that. This is just one reason why early buying and monitoring discounts ahead of time will help make Valentine's Day recovery go much more smoothly.
With that in mind, there is a lot to say when it comes to last-minute holiday buys.
2.) While last-minute buys from your wholesaler may have saved you from a Valentine's Day disaster, it is important to make sure those last-minute purchases are recorded to revisit the following year(s).
In fact, every major holiday should have a file of previous years' assessments. The more time spent ahead of the holiday results in a better-ran business. It is important to understand that you can NOT rely on last-minute buys to save you, but they can benefit you when approached properly.
If something falls through and your wholesaler has sold out on the products you need, you can end up with a major mess. It is important to keep your communication and eyes out for your wholesaler's deals, but you should never get caught empty-handed for waiting too long.
If underbuying is not your problem and overbuying is, have no fear. You can recover if you reuse and repurpose your left-over inventory the right way.
Reuse, Repurpose, and Recover - After Valentine's Day
Valentine's Day recovery often involves getting your shop back in order. This includes spring cleaning. Spring cleaning includes changing displays, checking your inventory, preparing to place orders for Mother's Day and ensuring everything is documented.
Spring cleaning is one way of making sure your shop is off to a fresh start to recovery. Don't forget to check with your wholesaler to see if they have any discounted product, because they may be spring cleaning too.
One major spring-cleaning tip involves ridding your shop of any excess inventory from Valentine's Day. This will make recovering easier.
1.) Reuse What You Can.
Your Valentine's Day containers may not fit into the Mother's Day color scheme, but if you can, reuse your more versatile containers for Mother's Day designs. They can also be used for birthday arrangements and everyday designs. Additional products that can be reused after Valentine's Day are your hardgoods, foam and some florals.
Obviously, your overstock on flowers can't be used in Mother's Day designs, but that doesn't mean they have no use. Orders made days after the holiday can utilize these repurposed flowers, but that is not your only option.
2.) Repurpose Product Before You Lose It.
Consider repurposing these flowers for a wedding following the holiday or deliver flowers to a local charity or church. Advertise your gift on social media. Remind your consumers that flowers are used to share smiles and for any occasion, not just for Valentine's Day.
You can even turn these designs into "Thank You" flower arrangements for the people who helped get you through Valentine's Day. This can include vendors, employees, friends, volunteers... You name it. You don't want a bunch of bad flowers in your shop.
You use (or repurpose it) before you lose it!
3.) Recovery May Include Some YOU Time.
The burnout is so real after Valentine's Day. We all feel it. Don't feel any shame in taking a few days to yourself or even taking a vacation. Plan a trip ahead of time, wing it or have a staycation at home. Self-care and preserving your mental health are vital to your shop's overall wellbeing.
Take into consideration that your employees may need some time off too. Now's the time to offer it, because brides start ramping up in the springtime!
Although recovering after Valentine's Day may feel like a job in and of itself, the result of properly assessing and organizing your shop will pay off drastically.
Even if your shop suffered some roadblocks this Valentine's Day, be sure to focus more on what is ahead of you. You can't change the past, but you can take the steps needed to make your shop's future more successful.
Our wholesale florists at Hardin's Wholesale Florist, Inc. in Liberty, NC are here to ensure you have everything you need to properly reset and recover after Valentine's Day. Everything from florals, ribbon and containers, we have you covered!
2020 Wedding Trends: What You Need to Know.
Trends are created based on a shift in consumer preference. Some trends are developed throughout the year, while others are reused and recycled from previous generations. Each year, florists need to be prepared for new and reused requests for florals and design. It doesn't make any of our jobs easier, but it does keep us on our toes for both the everyday design and for weddings. Here's where to start.
If you haven't checked it, you should now. The 2020 Flower Trend Forecast is out with everything you'll need to know for upcoming wedding design color inspiration. While this new swarm of trends will be coming in our shops left and right in the form of a bride and her three Pinterest wedding boards, there is more to consider. You need to know what is staying and what is new.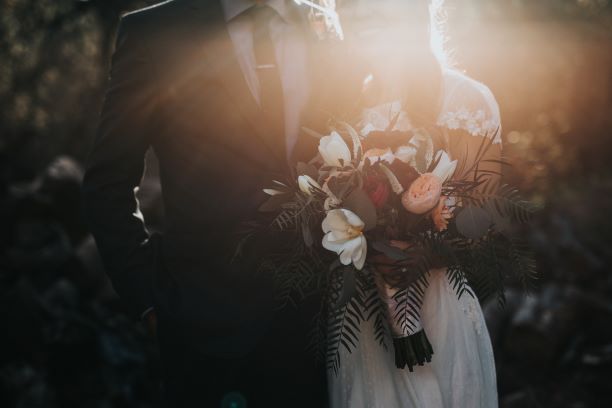 What is Staying?
It's a new year. You may be turning over "a new leaf" when it comes to a lot of things, but not when it comes to foliage. It is not just about living green anymore. You have to design green too. Living green and designing with greens are very much still in when it comes to wedding designs.
This trend may stem from the modern-day generation of couples' desire to be one with nature. It fills this longing with the essence of natural beauty and ties in the organic feelings that are experienced when committing to the unity of marriage.
Another trend that is staying and pairs perfectly with the green feelings of a wedding day is the infinity circle. It is found commonly in both centerpieces and bouquets. Just as the bride and groom are committing to grow together like buds in nature, the infinity circle symbolizes what it is like to live in this circle of life and in the binding of never-ending love.
Experiencing the beauty of these repeating trends and allowing them to work in harmony with new and rising ones will carry your wedding designs in a different and more unique direction in 2020. There is something extra special about the impact that foliage can bring to wedding design.
This green trend is even altering the trends that currently stand. Flower walls are being manipulated to meet the naturally minimal sense. Foliage walls are a fresh décor alternative. They can be filled with fruits, herbs fruits and more. It's a reflection of what 2020 is doing to standing trends.
Allowing yourself the creative freedom that comes with the intermingling of hard, soft and feathery pieces can take your designs in a whole new direction in the new year. Foliage designs can be used with many different wedding themes because the fresh, universal look carries over.
Nature's bounties can be powerful in both physical beauty and emotional meaning. It brings a couple back to the true meaning of their commitment. Designing with foliage can reflect the pairing of two green souls. They are beautiful and simple on their own, but when they are paired together, they pack a more powerful punch, complement one another both physically and emotionally and embody a whole new feeling of life.
Isn't that what marriage is all about? How amazing is it that you have the power to bring such meaning to a couple's big day? When consulting with engaged couples in the new year, don't be afraid to stand for the deeper meaning behind your designs. You are the expert. They want your advice. Don't be afraid to be bold and back up a more modest design.
What's New?
Of course, every year, a new set of colors trend and seep through to every area of our lives. Whether it is the rose gold frenzy of 2016 or the burst of color trend that stayed prevalent in the 2000s, color has always taken influence over trends.
Pantone has carried part of this hefty load with it through the years. Its influence is what has us on our toes for each new year's wedding design platform. This year's Pantone Color of the Year has many florists at the edge of their seats because who doesn't love blue? It is a classic.
Although it is loved, "Classic Blue" does pose a challenge for florists. There are very few blue florals. However, florists must learn to improvise. Lavender and purple flowers are likely to take reign. Due to base colors, these florals, when paired properly, will draw the blue out of designs. This makes designing "classic blue" weddings even more exciting.
The options for what you do new are open.
Be in front of the trends. They are a guide to every wedding flowers' success. Make pin-worthy designs with the elements your clients have in mind. Beat them to the punch. You are bound to see the same Pinterest boards and repurposed inspirations. All that matters are that your couples feel listened to and confident leaving their wedding to the work of your experienced hands.
They get the last thought. They need to be happy. It is their wedding, after all.
Whoever thought we would be designing with dried flowers and monochromatic wedding colors? Well, we are. 2020 weddings are more wide range than ever.
You have the draw from the modern "a new leaf," a romantic sense of the bohemian and sophisticated feel from the "black tie and barefoot," luxurious and elegant luxe and velvet textures from the "posh and polished" and the forward leading path towards the whimsical side of a "vibrant vibe." You have it all. Now, you have to make it your own. Just like every design, every designer will do things a little differently.
Every wedding florist has the same palette. What you do to make your weddings your own is up to you. How are you planning to make it to the Pinterest boards of the blushing brides and grooms to be? You must be willing to take each trend, embrace it, then make it your own.
To truly make an impact with these 2020 wedding trends, both old and new, you'll need to be ready. Our wholesale florists at Hardin's Wholesale Florist, Inc. in Liberty, NC are here to help you prep your wedding flower inventory. Stay on top of the trends and get first pick when you pre-book your wholesale wedding for the new year.
Happy designing and Happy New Year!