Creating Seasonal In-store Arrangements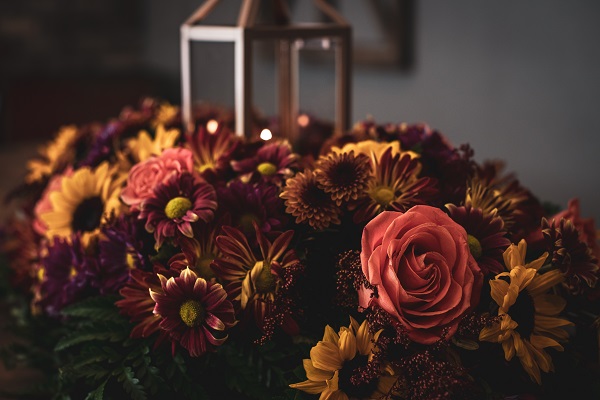 In-store arrangements give customers an example of your work and should accentuate your versatility as an artist. Displays that reflect the changing seasons in creative ways can also encourage impulsive, unplanned purchases and lead to a boost in revenue.
Due to their limited availability and the warm emotions seasonal items can inspire, they are a logical choice for creating updated displays designed to grab attention and get your customers in the mood to make purchases.
Principles of Designing Versatile In-Store Arrangements
The designs you create for in-store arrangements should be mid or economically priced. You can always add more, but you can't always take elements away without compromising the design. Create adaptable arrangements that you can modify according to your client's budget. You can easily add high-end flowers when working with a larger budget. For smaller budgets, use expensive blooms sparingly and mix them with inexpensive blooms.
Color is a great way to interpret the seasons. When creating an arrangement, start with color then you can select your flowers. Combine the different shapes and textures to create depth, balance and celebrate the beauty that nature inspires.
Let your creativity guide you. Be playful and experiment with shapes in flowers if they have a similar shade. You have the unique ability to shape the living world and impose order on what would otherwise be tangled, meandering wildflowers and greenery.
Having a good mix of containers including metal, ceramics, baskets and novelty containers is another way to make your arrangements change according to season. A container can add more depth to a simple arrangement or unbalance a very structured arrangement.
If you are strategic about the designs you create, there are always ways to adjust an arrangement. Our staff at Hardin's Wholesale in Liberty, NC can help you find the perfect accessories that will allow you to upgrade, update and upsell your designs.
Choose flowers and foliage that reflect the seasons. In this way, nature does know best. Your seasonal arrangements create interest, attract customers to your store and create a pleasant atmosphere to encourage purchasing.
Placement of Seasonal Displays
Seasonal arrangements and holiday items should be displayed at the front of the store within their season. Since they are only available during that season, these items are great for impulse buys. Also, placing seasonal arrangements in the front of the store will help sell these designs before the season ends without the need to mark down or discount the items.
Studies about shopper behavior show that the movement patterns of shoppers may mimic the driving patterns where they live. For instance, in countries like Australia, Japan and the UK, people drive on the left side of the road and explore stores in a clockwise direction, but consumers in right-side driving countries usually turn right when they enter a shop and proceed in a counterclockwise pattern.
The best way to know for sure is to watch the movements of your customers and set up your shop to maximize your sales. If you do see your customers walking through your shop in a pattern similar to how they would drive, park your seasonal merchandise in the front of the store to the right and display your seasonal in-store arrangements at the ends of aisles where they can be seen. Seasonal designs serve as a reminder that tis the season to buy something scary or merry, depending on which season is upon you.
Fall and Winter, What's in Store
As the leaves change and the temperature drops, people are in the mood to celebrate the shift in season. Create your versatile in-store arrangements to inspire the feelings of excitement that the approaching holidays accompany.
For the fall, draw your inspiration from nature and interpret the season with color and material selection. Florals in unexpected, vivacious colors amid dark-hued foliage and berries placed in dark bamboo baskets or metallic containers can bring out the best of the season's beauty.
Fall can also be a great time to make use of holiday-inspired containers like pumpkins. Dark blooms like dahlias and roses or vibrant chrysanthemums and sunflowers and other yellow, orange or brown colors look stunning when paired with a white or metallic pumpkin container. If you are designing with Halloween in mind, you need not sacrifice style. Stretch cobwebs across lively blooms and any other additional trinkets like spiders or eyeballs to go from fall to Halloween with no hassle.
Once fall steps aside for the cold months of winter, designs build upon bold colors to contrast with the season's appearance or white to replicate the delicate, cold and tingly surroundings of winter.
For winter, wreaths and garlands get everyone in the spirit and can be made with berries and evergreens. For an updated take on red and green colors for Christmas, consider combining dahlias and roses with succulents and berries.
Poinsettias are the standard holiday flower. The bright red color certainly has become synonymous with Christmas, but for a trendier use of this classic plant, consider white poinsettias combined with other white flowers with smaller blooms. Some buds to consider are roses, hydrangeas, jasmine and similar flowers in various shades of white.
When it comes to adding texture to winter arrangements, consider red carnations for a long-lasting flower that adds dimension. Baby's breath can be a gorgeous filler and can even create a stunning winter display on its own.
Tastes Vary, Design Accordingly
Preferences for designs and certain flowers vary. Each person develops tastes based upon experiences, influences, culture and environment, among other things. It is important to keep this in mind when designing in-store displays.
Create displays that accentuate your flexibility. Don't limit your designs to what you find appealing. Every customer is different, so your designs should celebrate that diversity.
Don't recreate the recipe to suit different generations. Instead, recreate the style to fit your customer's preference. To keep your store stocked and ready for any design request, choose a mix of fresh and permanent botanicals, and don't forget the plants. Plants are trendy and useful for many designs. You can always clip pieces or sections from potted plants, wandering vines and flowering branches or trees to add texture to your arrangements.
How to Buy
When visiting our wholesalers to consider new or updated display and cooler props, consider buying in bulk. This will help you save money and give you more options for displaying multiple versions of in-store designs.
Along with buying in bulk, you can take advantage of discounts and closeouts. Remember that seasonal products change and are normally available a season ahead. By staying ahead of these seasonal shifts and selecting corresponding products early, you can be a trendsetter instead of a trend follower.
By changing and updating the arrangements in your store, you add visual interest. Combining newer, strategically placed in-store arrangements with the right atmosphere to coincide with the season can encourage shoppers to return to your shop and perhaps even impulsively buy something to celebrate the season with style.