Essential Products for Sympathy Arrangements
Losing a friend or loved one is one of the most difficult experiences in life. During times of grief and mourning, it is not unusual to focus on everything we will miss in the absence of the dearly departed. It is challenging enough to experience the initial loss but focusing only on the loss and what it means makes the situation even more challenging and upsetting.
When discussing sympathy arrangements, we should focus on celebrating the person's life instead of focusing on the loss and communicate that in a sensitive and empathetic way to customers.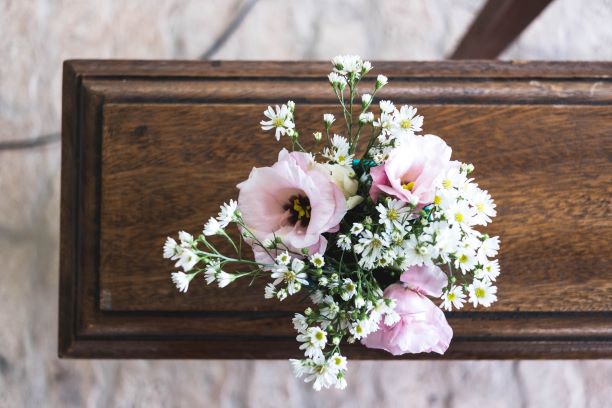 Keepsakes
Many people in today's market look for a keepsake item to have as a lasting memory of the celebration of their loved one's life.
Providing a variety of keepsake items like stepping stones, wind chimes, angelic or cherubic statues or religious items is a thoughtful way to help customers remember their loved ones. Many great items can take a floral tribute to the next level.
Tributes
There are many ways to create stunning floral tributes. Starting with the right foundation can guide your design. Ornate wooden easels, window boxes, window forms, stands, columns and urns are all options for creating sympathy designs.
New foam forms and accessories will help you create set pieces and other floral designs. Your tribute can be personalized with banners, ribbons, lettering or a fond item to celebrate the person's style.
Floral tribute pieces should utilize long-lasting flowers because the celebration can span days. When deciding on flowers, look for a seasonal flower that is available in your region that can showcase the loved one's interests and hobbies.
Sympathy Trends
There are more and more requests for cremations, and in recent years, it has become more requested than burial. Some people still have a viewing, even when they have chosen cremation. If there is no viewing, there will most likely be an urn or a photograph.
Since cremation continues to increase in demand, having adequate supplies to allow you to have options for the family is important.
A good option to offer is a cremation riser, which allows you to decorate the foam wreath base with flowers. The center is a polystyrene material that does not hold moisture. This prevents an urn, photo or statue from sustaining damage when placed in the center from moisture. The center can then be covered with moss or foliage.
Large rectangles and containers for display pieces are also important. Frames and easels used to hold photos and printed materials can also be decorated with florals.
If there is an urn or photograph that will be displayed during a service, a garland can be used as an interesting floral tribute. Utilizing floral foam, garlands can be draped off the table if you cover the front with foliage and flowers. Garlands can also be placed winding down the middle to create a centerpiece. Garland is flexible, can fit any space and can wrap around and accentuate any item on the table, so it makes a very adaptable event piece.
Another adaptable foundation for a sympathy piece is a flat tray. An arrangement made in a flat tray can go to the home or memorial service. Since these trays sit low and heavy, they can be used for any space or design.
Depending on the intention of your design, these trays are available in different sizes.
A large tray can serve to create a place for the urn to sit inside of a design surrounded by flowers. A medium-size tray is a perfect companion piece that can hold a photograph.
For memorial services, everyday containers can also be used. Instead of adding a keepsake item, consider incorporating plants or permanent botanicals as a family keepsake option.
These suggestions can all incorporate personal items of the deceased to reflect interests or hobbies.
Designs with Dignity
The most important thing to remember is that sympathy arrangements are chosen in a delicate time, so make the process of selecting designs as streamlined as possible for your customers.
On your website and in your store, the different options for sympathy arrangements and designs should be represented and easy to find. Photographs and examples of your work help customers make decisions in times of need.
Some customers may prefer to shop online as the circumstances prompting the purchases are not happy. Photos must be detailed and should highlight each arrangement and the alternate options that utilize more economical flowers. Price details allow customers to decide on an arrangement and conclude the purchase online. Call for pricing may scare off potential customers who don't wish to talk to someone during a stressful time.
When designing sympathy arrangements, consult with the family and the funeral home, church, temple or mosque. Visit the location to familiarize yourself with the space. Use the opportunity to develop a relationship with the funeral home or place of worship that will be a part of the service.
Introduce yourself to funeral home operators and staff. Offer to give discounts to customers they refer to you. You can also offer to provide a fresh arrangement for the place to display at the entrance each week if they allow you to place your business cards and brochures nearby.
Pictures that show your designs in the spaces where memorial services are held help customers see how the sympathy arrangements fit into the spaces. This allows your customers to get a better idea of what they would like to have to make the most of the space they will be working with for their specific memorial service.
Modern memorial services are also being held at home, in natural locations and other alternate settings. Many people are concerned about the environment, so green funerals are increasing in popularity. Small, intimate ceremonies are a way to celebrate the life of the deceased in a very personal way, and the flowers reflect who the person was and what he or she meant to those left behind.
Create sympathy arrangements that represent your ability to incorporate personal details into arrangements. When designing for modern memorials, include options for eco-friendly arrangements, compact bouquets, memorial arrangements that coincide with cremation and other alternatives, unique arrangements to let your customers see what you can do.
Flowers have been a part of memorial traditions in almost every culture. Flowers have always been an expression of sympathy, though certain designs and styles may change. Flowers beautify somber surroundings and honor the deceased with a visible display of affection.
Sympathy arrangements often cannot be anticipated the way certain holidays or events can. Having the necessary items in your shop allows you to create these designs as they are needed. For more advice regarding what products are essential for creating sympathy arrangements, reach out to our staff at Hardin's Wholesale Florist, Inc. in Liberty, NC, and we will be glad to help.
When it comes to sympathy arrangements, high-quality photographs, detailed descriptions and pricing information both online and instore will simplify the process for your customer. Stay on top of trends and etiquette for different services and cultures and be flexible with designs. Sympathy arrangements are meant to celebrate the life of an individual. Personalized designs will be remembered and remembering is what it is all about.