How to Prepare for Summer Wedding Trends
With many 2020 spring weddings canceled due to the unfortunate pandemic, we are hoping that summer holds the promise of the renewal we missed during the spring season. In fact, here's to hoping for a busy summer with some of those weddings that were previously canceled back on the books.
Since we are hoping you will have a busy summer wedding season, we wanted to share some tips on how to stock your shop in preparation for the 2020 summer wedding floral trends.
Remember, it is always a good idea to create several arrangements at different price levels and suggest to clients that choosing arrangements and designs at different price levels will stretch the budget. The variety of having different arrangements will also create more interest and impact to the space.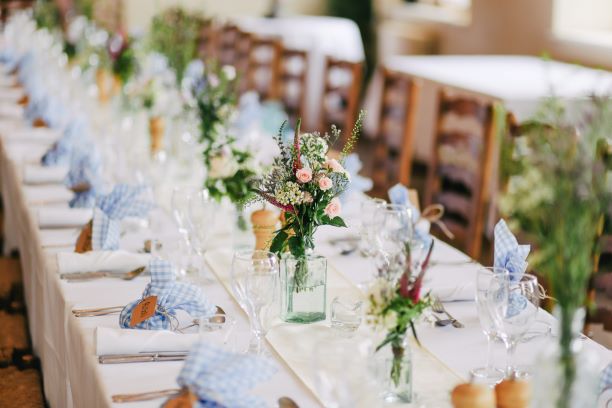 Big on Color
Color is bigger and bolder, and pastels are taking a backseat to brighter hues. Color is in focus and modern couples are expressing their playfulness with deep, rich tones.
Along with bigger colors, flowers are also larger with a more relaxed style. The 2020 Pantone Color of the Year is classic blue, so the wedding trend of full and vibrant colors is a natural extension.
Sustainability and Minimalism
Minimalism is having a moment. Intentionally simple styles can be beautiful and unexpected. Instead of flowers everywhere, minimalist and sustainability trends are more about quality over quantity and seeking in-season blooms.
Sustainability is another important trend, and many people want it to be part of their wedding. The minimalist and sustainability trends are fresh and modern. These weddings are more natural with linens, reusable containers like ceramics and recycled glass.
Another aspect of the increased concern with sustainability is that clients may begin asking for foam-free pieces or asking if flowers are in-season. Experiment with creating foam-free designs to accommodate the desires of the eco-conscious to eliminate foam and advertise this ability.
As wedding flowers continue to reflect the shift toward concern for the environment, flowers feel more organic and natural when it comes to the design. Reusable containers can coincide with the style of the wedding and allow these pieces to be easily moved and repurposed. These multi-use arrangements are a great suggestion for the eco-conscious wedding requests.
Another way to incorporate a natural feel is by using branches, wildflowers and vines of greenery to give these arrangements and bouquets a more gardenlike feel.
Table arrangements are becoming smaller and less obtrusive. Trailing flowers, both from the ceiling and from the table are ways to create an ethereal vibe without using as many flowers or creating the feeling of an overwhelming abundance of flowers.
A simple and elegant way to celebrate minimalism and sustainability is by using single statement blooms. This way, a favorite flower can be chosen and placed in bud vases for small bursts of color that are also easy to transport for multiple uses.
Bouquets are also smaller and consist of pretty, scented flowers and complement rather than overtake the bride. If a summer bride opts for a smaller bouquet, you can even suggest having a spare bouquet waiting in a safe place in the air conditioning in case the original bouquet wilts from the heat and needs to be replaced.
Flowers in Focus
The peony was popular in 2019 and continues to dominate. They are versatile enough to fit into formal or rustic weddings, and since their season runs from April or May to late June, they are a natural selection for early summer weddings.
Garden roses are a possibility for summer. Hydrangeas are another trending, in-season option. Most varieties bloom in mid-spring well into summer. For late summer weddings, suggest dahlias.
Modern Boho
Modern Boho still has a similar relaxed vibe to the boho we are already acquainted with, but it is moving away from the more earthy tones and macramé and becoming more vibrant with bright colors like scarlet red and bold yellow. Grasses are still big and adding interest, but there are some other options.
Tillandsia is a great option for summer weddings as they can handle the heat. Another interesting option that is beginning to gain traction is sun palms. Sun palms come in almost any imaginable color, which makes them an obvious choice for modern boho. They are so easy to incorporate into many color palettes that their popularity will likely extend beyond the boho trend to other styles.
Permanent Botanicals
Artificial and dried flowers are collectively known as permanent botanicals, and their popularity coincides with the bohemian and eco-wedding trends. A big advantage of working with permanent botanicals is that you can always manipulate the form and shape as the stem has a wire that can be bent. Another bonus is that you don't have to worry about whether they are in season or will wilt.
Dried flowers were once only chosen for rustic weddings, but they are now finding a place in minimalist and bohemian wedding florals. Dried flowers are mixed with fresh flowers to add new depth, texture and expanding options for color.
Dried flowers can be painted, bleached or even left natural. The best part is that you can hold onto them as keepsakes long after the wedding festivities come to an end.
Unique Designs
Weddings are an expression of a commitment, and all relationships are unique. It makes sense that the wedding trends of 2020 reflect this idea. Unique designs aren't confined to the traditional idea of what weddings flowers are supposed to look like.
Instead of large arrangements and classic bouquets, unique designs are more deconstructed and unexpected. They may still consist of some of the trends but with a slightly different spin. Peonies, a popular wedding flower for 2020, may be displayed in an unusual container, and monochromatic designs might showcase flowers with similar yet slightly varied shades of the same color.
When it comes to unique designs, greenery doesn't need to be green. Bleaching leafy plants are reinvigorating the greenery trend. It allows for greenery to add the texture and bulk without adding too much of the color green.
The bleached greenery complements bohemian looks and fits nicely with loose, organic designs of the minimalist trend.
To take the unique approach even further, you can always suggest corsages or some other flower wearables. The best part is this allows important members of the bridal party to have their hands available to help the bride instead of holding a bouquet.
Flower jewelry like necklaces, bracelet cuffs and even earrings are extremely popular and certain to make a statement.
Where Trends May Begin and End
It is important to acknowledge that weddings are an extremely personal event. Although the trends are certainly influential, not everyone embraces the latest trends. Some people want a very traditional wedding, which means you must be versatile. Also, you will often find that when you are further away from larger cities, weddings are less driven by trends.
Whether you are designing for a classic or a trend-focused wedding, our wholesalers at Hardin's Wholesale Florist, Inc. in Liberty, NC have what you need to make any wedding the personal expression of love the happy couple deserves.