Tips for Successful Sympathy Designs
Sympathy designs are needed in times of sadness and mourning. Therefore, communication with the client must be done with great sensitivity and patience. You may be creating several pieces that will combine in a scene of unity that is a personal tribute to the deceased, and you may not have much time to do so.
The best sympathy designs are a harmonious blend with the nature of a specific area and the preferences of the individual whose life is being celebrated. If all of that wasn't enough pressure, these designs also need to be created quickly. We are here to offer some tips to make that process a little easier, so you can focus on your creativity.
Make sure that you and the client understand one another prior to beginning the design to ensure the concept of the designs is within budget, and that there is a feeling of continuity if there are separate designs that will be displayed. Separate pieces should all have similar colors, styles and products to avoid having any of the pieces clash with one another.
Your client needs to understand your designs and how they reflect the person he or she lost. There are ways to personalize designs to highlight a hobby or occupation. Find out what the person was like so you can get ideas for how best to help the mourners celebrate what was unique about the person they loved.
For younger consumers, they prefer clean lines and simpler designs. They are drawn to style as opposed to specific flowers. Older consumers may prefer more traditional styles. Have examples to suit both preferences at different price points.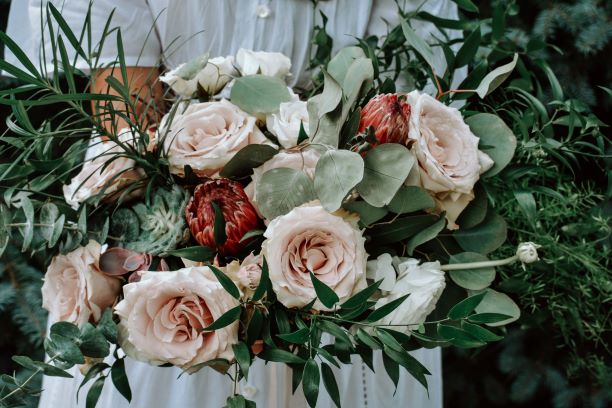 Standing Sprays
Standing sprays are one of the more popular and requested sympathy designs. They are a personalized tribute placed near the casket. Create a basic design that will help streamline the process of creating standing sprays, as you often have limited time to work on sympathy designs.
You can easily create a basic design with an easel and a floral cage. Saturate your floral foam to ensure the longevity of the design. Floral foam is the water source allowing your design to stay fresh, so it may be viewed for several days.
Standing sprays can be heavy. Since they are often folded up and moved, your design needs to be stable and portable. You can reinforce your design by using waterproof tape around the floral cage.
The back of the floral cage and the mechanics should be covered to make the design look clean and more natural. Your design should not have exposed plastic. UGlu and double-faced tape can be used to attach leaves, moss or foliage to the back of the floral cage. Larger leaves cover more area. Before using UGlu, make sure the foam is dry.
When attaching the floral cage, you can use bind wire or paper covered wire to keep it secure to the stand.
Proportion and scale are important, and there must be focal emphasis on the center of the design. Use a sharp cut with a sharp knife in the shape of an arrow to open waterways and create a point to help fix them in the foam.
Make sure that flowers are placed one to one and a half inches into the foam, so they are stable and have water. Avoid putting the foliage into the foam as that will create bacteria.
How to Make a Design More Upscale
Upscale designs are more expensive and designed to appear opulent and grand. A more upscale appearance can be achieved as a result of style and/or flowers. Calla lilies, roses and orchids, for example, can instantly give a design a more elegant, upscale appearance.
However, sometimes the way the product is presented can influence how upscale it is perceived. This includes the size and the florals used. Also, height is another way to give a design more of an upscale feel. The design should follow a clean line that intentionally leads the eye.
White is often used in sympathy designs, and if your design is all white, be sure to use vibrant greenery to bring out the design.
Always place your most expensive blooms in the middle of the design, so they can receive the attention they deserve. Carry the eye through the design with intention. The color, the varying materials and the line of the design direct the viewer's gaze to specific areas of focus.
Smaller Sympathy Designs
There is a desire for more plants in sympathy designs. There is a perception of greater value, more flexibility and comfort in the thought that plants can continue to live. This also makes plants a great choice for condolences for businesses.
A dish garden is a garden of plants in a shallow dish that are compatible enough to slowly grow together. Succulents are popular for dish gardens and can be dressed up with fresh flowers. The flowers should have long stems sticking into tubes for a water source. A bouquet holder tucked into these designs provides an excellent water source.
Personalized sympathy designs are seen as more valuable and memorable. Like other designs, adding upscale flowers like orchids is a simple way to elevate the design. Always listen to your clients during these difficult times. If you are sensitive and intuitive, you can create a design to help them feel better and remind them of the dearly departed.
If you are looking for options for flowers or mechanics for sympathy designs, our wholesalers at Hardin's Wholesale Florist, Inc. in Liberty, NC are always glad to provide you with the tools to create memorable, balanced and secure designs with beauty and longevity.