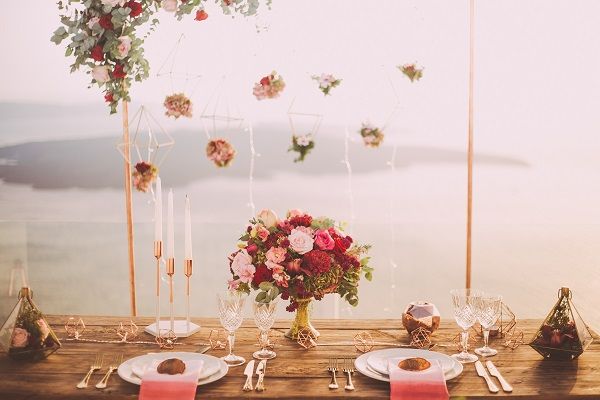 Things to Never Overlook for Wedding/Reception Décor
We all know the pressure that is involved with decorating for a wedding and or reception. We have all had our fair share of bridezillas and monster in laws. Despite the chaos of it all, those special brides, couples and families are what make decorating for a wedding so special. They trust you to make one of the most memorable days of their life perfect. No pressure, right? It's all in the details. Your work's details make your business stand out. A happy bride leads to a long line of weddings in your future. Keep those soon-to-be brides wanting more with these top 8 things to never overlook for wedding and reception décor.
It is easily debated that the most important part of a wedding is the photography and videography, behind choosing the right significant other of course. Since this is such a vital part of a wedding, it is essential that the flowers can stand out in every shot. Your designs should POP when in front of the camera. It is important to encourage brides to stick with what is going to look best. Sometimes the picture they have in their head may not come across the same way on camera. Push your brides towards colors and styles that will look the best when they look back on photos of their big day.
1. Welcome Sign
First and foremost, ensuring the bride, the groom and their families are happy with your designs is the MAIN priority for weddings. Let's face it. The goal is to make a paycheck and a good reputation for future business. If the bride isn't happy, odds are, the person paying won't be happy either. Along with the bridal party, it is important to take the guest's breath away when they first walk into a wedding. Give them a little taste of what is to come. The entrance or welcome sign should have a little spice incorporated into it. Accent colors like reds always stand out in photos and videos. Various shades go with differing wedding styles. A brighter red accent added to a black and white wedding is one classic yet bold style. Burgundy tones go with the chic-er wedding designs. Design accordingly.
It is important that the bride is amazed as soon as she walks into the ceremony and/or reception. Dazzle the guests and add the essential magic to the day. Recreate the moment of the bride and groom's love story with beautiful flowers that stand out in every photo. Let your floral designs compliment her beauty as she walks down the aisle...
Now, that you mention it.
2. For the Aisle
The last thing a bride should be worried about when she is walking down the aisle is whether she likes the flowers you designed. She should glide down the aisle with no worries in mind. With every gentle step, a wave of confidence should fill her spirit as she sways down the aisle. Every floral accent should catch the eye of both the bride and the guests without taking away from the moment.
The aisle is the pathway toward a future and a new adventure in life. The floral accents down the aisle should be a representation of that future and the love invested into it. It is crucial to keep the aisle elegant yet minimalistic, so it doesn't take away from the beauty of the moment. The moment the bride and groom's eyes meet, love feels the ceremony like the magic in fairy tales.
How is your work contributing to that moment?
It's is all just another moment that will be captured on camera. Your work should help preserve those moments. This leads to another vital part of their wedding's floral future. The wedding party needs to be picture ready.
3. For the Wedding Party
Every wedding party is going to be a key point in making or breaking a wedding's overall vibe and picture-perfect setup. Depending on the bride and groom's preference, the flowers may vary among bridal parties. It is important to deliver the look and feel they are looking for, yet just as important to remain stylish and quality driven.
Depending on the style, corsages are best for the mothers while boutonnieres seem consistent across the board for the men in the wedding party. Talk with your bride about her preferences. Is she keeping the bridal party's styles consistent, or is the bride wanting her girls to have differing yet complimentary bouquets? It is important to ensure that nothing is overlooked at the ceremony.
4. Ceremony
Like every bride and groom, every wedding is going to differ. In most cases the bride (and her mother) are going to input the most opinion into your wedding design. They'll want to know about every nook and cranny. They'll want to know about every shade, how things will be arranged, the amount of time it will take- all while staying on budget. It is important to stay firm on what is and isn't negotiable. They may want something one way, and they will need some serious persuading, along with a long list of reasons why their idea will or will not work. Be prepared with details and alternatives.
In some instances, the groom or some select relative or friends will give their opinions whether you ask for them or not. They need to be heard. Sue this makes our jobs harder, but it could make or break the review they write you. With that in mind, the ceremony details are crucial. The flowers should be healthy, full and ready to shine, but they can't be the center of attention. That is the bride's job... maybe until reception?
5. Centerpieces
The pictures are done, and the dances are over. When it is time for the reception, all the bride and groom want to do is rest their feet and enjoy some food. They should be equally as impressed at your handiwork when they sit during the reception as they were during the ceremony. Frankly, this will be the one time they will get a chance to really look at it. The photogs will get detail shots of the table pieces and garlands draped around the table.
After the detail shots are done, the centerpieces' job will be to impress. They should help the newly married couple take in the elegance of the evening. Yes, there will still be shots taken of them as they kiss and laugh. However, once they sit for the first time that day, they'll want to be able to take it all in. The beauty of their loved ones gathered together, the flowers caressing every table and the love in each other's eyes all deserve to be appreciated. This makes table essentials... well, essential.
6. Table Essentials
Table essentials vary among weddings. Every bride and every groom have an idea in mind when it comes to their dream wedding. Simple floral accents on the ribbon holders, flowers to line the table and floral chandeliers are always crowd pleasers.
The tables are going to be a focal point for the wedding reception. It is essential to put in a little extra time into making the reception perfect. This is where the guests, the bridal party and everyone attending will spend the most time. By the end of the night, shows will be kicked off, and everyone will be ready to party. It is important to focus on making the table essentials a priority. Let those simple details be an eye-catching focus at a wedding reception.
7. The Details
Details can make or break a wedding or reception's overall look. When it comes to details, consider the places that are often overlooked. The legs of a table should NEVER be showing. One reason why focusing on the size and shape of each design is important. The tablecloth and floral accessories need to be designed with precision.
Always consider the focus of the room before anywhere else. Your bride and groom, along with the wedding guests, should be amazed by the first thing they see. As soon as they walk in to either the wedding ceremony or reception, the focus should be designated and decorated.
It is important to get an idea of the venue's layout. You'll have to adjust sizing according to the space you will have to work with. The tables, the chairs and the overall venue need to be investigated before all the time, effort and money are put into designing. Nothing is worse than getting to a venue with a beautiful design, only to find out that it won't fit where it was intended.
Branch off from a venue's space onto the venue's setup. Get rid of "the ugly." The ugly orchids set up outside of the venue, the ugly white tablecloths at the entrance and the ugly knick knacks gotta go. If it is ugly, it shouldn't be a part of the setup. Hide them away in a closet until it is time to tear down. Out of sight out of mind, that's what we always say. They can be returned precisely to the right areas after the day is done. NO harm, NO foul. Don't let all the venue's ugly accessories ruin the work you have put together. The bride and groom are trusting you to make their wedding beautiful. If that means taking then putting back, then so be it.
Talk with your bride and groom about whether they have a wedding planner or not. Depending on the wedding planner, they can be a saving grace or your worst enemy. They will know about all those small details the bride and groom have raved about, giving you a better idea to work with.
8. Requests
There is a fair share of horror story brides with horror story ideas for their weddings.
I want rainbow daisies!"
Who truly wants rainbow daisies as the focal flower for a wedding? That's when you take every fiber in your being to convince the persistent bride that there are plenty of alternatives. Color is something we can work with. Rainbow daisies? Better left unsaid.
It is important to never overlook the request of a bride or groom on their wedding day. If you want to know what not to overlook for a wedding or reception décor, always make sure to explore all avenues. It is important to acknowledge all requests and be willing to speak up when necessary.
Regarding supplies, it is important to stock up on the wholesale flowers your bride chooses. There is some flexibility, but never leave your bride and groom out of the loop. Weddings are an essential part of our industry. They are a great way to grow business and get your work out there. However, when done improperly, your wedding business can go downhill fast along with your shop's reputation. Design and accept weddings wisely.
Take each wedding as an opportunity, but don't take on a wedding if you aren't prepared. You'll need the right staffing and plan for preparation. If you get into the wedding business wisely, it can really help your business grow. Weddings are opportunities to grow and make a difference in a couple's life and relationship. Break down the items you'll need and go in with a game plan. After your wedding consultation, work with the budget, so you can order the wholesale vases, flowers, ribbons and accessories ahead of time.
For better or for worse, our brides should be the priority. A happy bride leads to successful reviews, that leads to a successful wedding business. Among all the challenged that come along with wedding business, there are many rewards. There should be nothing overlooked with wedding and reception décor. If the budget is not there, it is important to at least discuss your concerns with the bride and groom. It will show them you care.
Stress the importance of flowers in a wedding. It may just lead to more profit in the long run. Our wholesalers at Hardin's Wholesale in Liberty, NC are here to help you take on weddings full force. Our 8 top things to never overlook for wedding and reception décor is essential for designing a wedding.